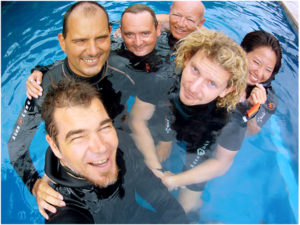 Our team at Blue Season Bali just rolled out a brand new Eco Oriented Divemaster curriculum which  launched just this January – and if that wasn't exciting enough, we thought we'd throw in the AIDA 1* Freediving course as well. The first Freediving overnight trip was  held in Amed, Karangasem.
Henley our internship manager & our January Interns were psyched. They enjoyed the opportunity to learn new skills at the sleepy fishing village in northeast Bali.
These newly learned skills can be transferred into their scuba life, and also gives our popular Divemaster internships a point of difference and definitely adds value without overly impacting the usual divemaster training schedule.
The first ever interns freediving overnight was definitely a success!
" I do go scuba diving as well sometimes.  Before a dive, I  relax and float on the surface for a couple of minutes while breathing through my regulator, and imagine myself sleeping, I find this relaxed state helps with air consumption & buoyancy control " –  Oli Christen our freedive Guru
 " I recommend everyone give learning a new skill some thought, especially for the New Year! Becoming a Freediver & Divemaster should definitely be on an ocean lover's Top 10 list of skills to learn… "