So I had heard of drift diving but I didn't have a clue what it actually meant. Logically thought I would just jump in and saw what the current did and copy what the instructor/guide did. I was a bit nervous of the unknown factors but up for the challenge.
I headed to Nusa Penida/Lembongan for my first one at Sakenan dive site. After listening to the dive briefing, we were going to make a negative entry, jump in at the same time, so we go down together and come up together. During the dive we were going to stick together and relax while drifting along.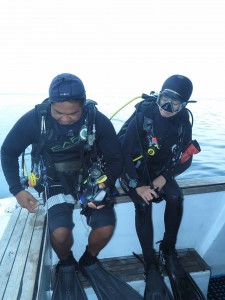 Hmmm nice concept for a 1st attempt. It was a very strong current, and as I'm naturally smaller, it felt like I was a torpedo. As much as I tried to slow down, I was speeding up- not a good technique. So then I start to do the superman poses and starfish shapes, thinking the bigger the mass, the more resistance, I was wrong. Eventually I relaxed and went with the flow. Some top tips from my experience:
Follow the dive leader with a Safety Marker Buoy, watch your depth gauge as the depth changes can vary without you realizing it, go with the flow, relax, stay close to the bottom for less current and enjoy the passing marine life.
You will realize, like me,  that you will use less air fighting the current and see more marine life when you are relaxed.
Another thing I noticed was that some people had reef hooks. There is a bit of a debate about this with some friends, are they a good thing for drifting? "Reef hooks destroy the reef!" "This is due to incorrect use!" The hook is there to help you stop and support you whilst you are diving in strong currents with minimal damage to the local ecosystem. It is not meant to use to be used on fragile coral that looks breakable but it is done by some inexperienced divers. I don't know if you are like me, but I get upset and disappointed when I see damage like that done to a reef, as it takes so long to grow.
Hopefully as new divers are briefed properly they will no longer do this and our wonderful reefs will be preserved – Long live the coral & marine life that live on it!
Are you interested in signing up for your Drift Diver Specialty? Check out the details here or pop us an email at diving@blueseasonbali.com.
Better yet. Tell us about your first drift diving experience in the comments below!