When diving in Bali probably one of the most amazing things you can find is a frogfish. These can be tough to spot as they are perfectly camouflaged. They camouflage to hide from predators and for their prey. Sometimes they mimic to be a potential meal for their prey, mimicking a meal is called aggressive mimicry.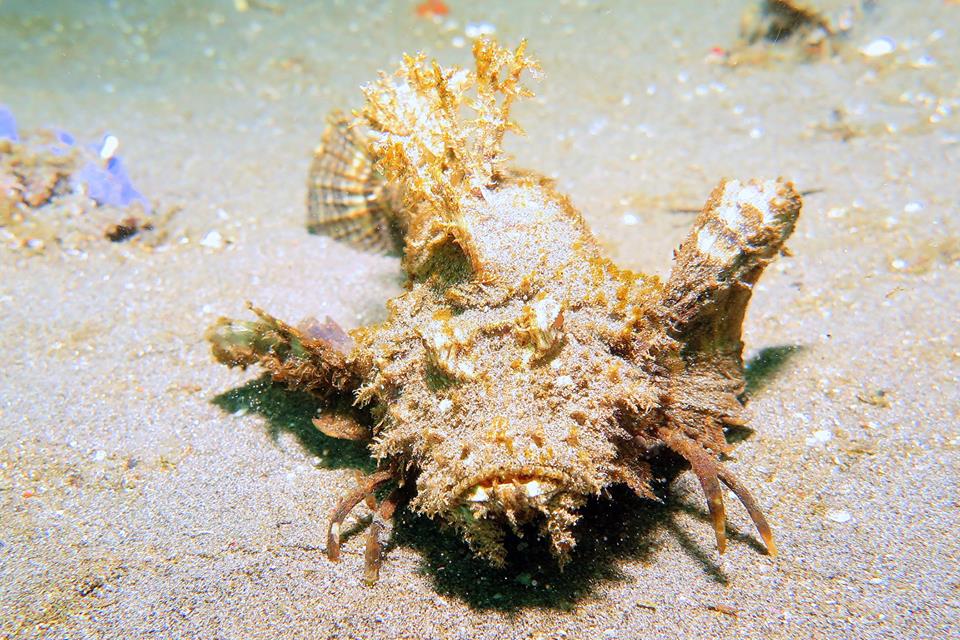 Frogfish don't move much and when it finds a suitable hiding place it's capable of changing skin color to blend in with its environment. They eat small fish, crustaceans (shrimps, crabs, etc.), and sadly even other frogfishes.
Frogfish stalk their prey until they are close enough to suck it in. Or mostly just sit around and eat whatever gets close. This works with the suction feeding mechanism – which is basically the fish inhaling a lot of water, creating a surge that sucks the prey into the predator's mouth.
Frogfishes live solitary lives and don't tolerate the presence of other frogfish around them, hence the potential cannibalism of relatives. During the mating period frogfish somewhat tolerate each other, but if the male stays around too long the female might eat the male.
Amongst many subfamilies, the ones we spot the most when diving in Bali are the following:
The Giant Frogfish, The hairy Frogfish, Warty Frogfish or Clown Frogfish and Painted Frogfish.
When diving in Bali the best sites for finding frogfish are probably "The Jetty" and "Tanjung Sari" in Padangbai and the USAT Liberty Wreck in Tulamben. That being said you can spot them on almost every dive site in Bali if you are very lucky.
If you love to learn more about sea creatures and their behavior, the PADI Underwater Naturalist might be just the specialty course you are looking for. You will learn about different Predator-Prey relationships and learn a lot about marine life behavior in general while getting to dive in the wonderful dives sites around Bali.
Or have you considered becoming a pro diver and doing your PADI Divemaster course here in Bali? You will have a huge variety of marine life to discover and a good variety of dive spots, from muck dives, over drift dives to astonishing wrecks.
Written by Felix