Sidemount diving gives you the ability to carry your tanks on your side as opposed to on your back. Sidemount requires you to have a special type of harness designed to carry single or dual tanks on your side. This gives you a lot more flexibility in regards to being able to adapt to most types of diving conditions like: boat, shore, cave, and wreck diving.
As like back mount you can also carry aluminum or steel tanks. Most harnesses now days can be used in any of the following configurations: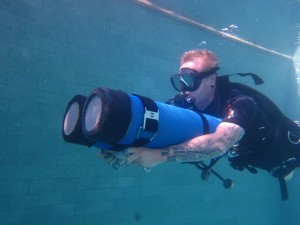 Single Tank Sidemount: this is a single tank that is generally carried on the left side and has configuration for both the long and short hoses on the same first stage, this allows for easy carry into the water and better streamlining. This is generally used for recreational diving.
Double Tank Sidemount Diving: this is where a diver can carry 2 tanks, one on either side of their body, the benefits of this are additional air for longer dives and redundancy on tanks. The setup for this is the shorter of the hoses on the left and the longer hose on the right.
So why Dive Sidemount?
There are many reasons but some of them include:
Comfort: carrying a tank on your back can sometimes cause issues with looking up and streamlining of your body, sometimes placing further pressure and making your back uncomfortable, Sidemount increases this comfort.
Travel: with a Sidemount harness you will find it is more compact and lightweight than most back mounted buoyancy control devices.
Fitting your tanks: with a Sidemount system, it is easy to enter the water with all your equipment on, harness, fins, mask, weights and then have the tanks passed to you in the water, this is especially good if you have a diver with who physically struggles with standard back mount setups.
Problem Solving: by having your tanks beside you, it gives you greater access to the tank valves, allowing you to investigate, diagnose and sometimes repair problems without having to remove your Backmount BCD. If you have a problem with a single tank, you can easily switch it off and move to your second tank giving you more flexibility and control.
Streamlining: if you are configured correctly with the Sidemount setup, you will be more streamlined as the tanks are in alignment with your body which lessens your profile, and reduces drag in the water.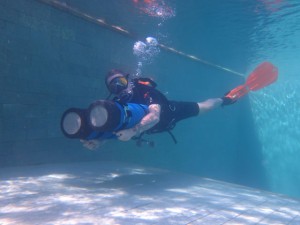 Next week I'll talk about different products and configurations for Sidemount diving.
To take advantage of all these additional benefits you have to take a course to be trained correctly and efficiently in its use. If you would like to find out more information or to come and take your Sidemount course with us then send us an email diving@blueseasonbali.com to find out more information.
I look forward to teaching you soon.