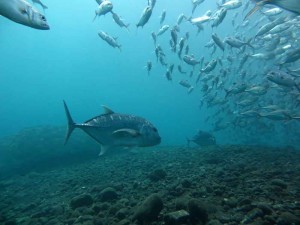 You still have three adventure dives to choose! Each should give you an introduction to its relevant specialty diver course. Here are my five favourite adventure dives to teach:
Peak Performance Buoyancy

Often labeled a "boring" course. This is hands down the most beneficial and FUN adventure dive you could choose. Picture hovering upside down, swimming through hoops, dropping weights, improving your air consumption rates and just generally feeling more comfortable underwater. I love teaching this dive and can always see a difference in divers once completed.

Wreck Diver

This one is just fun! I love diving wrecks, the Wreck Diver course consists of four open water training dives-on the advanced open course, you only complete the first dive. The requirements are not challenging and give you a great introduction on what is to come.

Underwater Naturalist

Is a great way to get an idea of the local environment. You will learn to identify different types of coral and marine life and gain a better understanding of the underwater ecosystem.

Drift Diver

Ever wanted to "fly" underwater? Drift diving is an exhilarating experience, however the first time can be a little daunting. Having your first drift dive conducted by a PADI instructor will help you to identify and learn the necessary skills to communicate, relax and enjoy a drift dive.

Digital Underwater Photographer

There are some great tips and techniques that are simple to implement and can drastically improve your underwater photography. If you love taking pictures, I highly recommend this dive (and course). Plus, you can leave with some fantastic keep sakes of your holiday!
Good luck and happy diving J