So, you've earned your scuba certification – congratulations! The best way to perfect your newly acquired skills is to dive, dive, dive, and dive. Planning to expand your scuba adventures to additional types of diving? Your range of diving opportunities extends beyond the entry-level scuba diving course you've just completed.
It's essential to practice your basic scuba skills regularly, particularly for new divers. Consistent diving solidifies healthy habits and develops confidence as an independent diver. Lack of confidence is the biggest reason why novices don't continue to dive despite wanting to.
You may be comfortable in sites similar to those at which you trained. However, if you haven't been exposed to unfamiliar situations, you won't be properly equipped to handle such issues, and that is a major concern. Comfort and experience are vital foundations to possess before branching out to a more technical diving or a higher dive education.
There are several ways to handle these issues.
Start practicing, muddle through, and learn along the way. The trial-and-error approach (always consider safety first!) may be time consuming and not necessarily let you experience special dives, however time in the water exposes you to situations that can help you become a comfortable, confident diver.
Buddy up with a more experienced diver. Dive with someone you trust that possesses the necessary skills for a chosen diving situation, is a decent communicator and willing to take responsibility for your safety and theirs.
Advance your knowledge and skills by enrolling in a continuing-education scuba courses. Higher-level courses are taught by a qualified scuba professional, according to the standards and educationally validated techniques of a recognized agency. If you need a one-on-one, hands on water time with an experienced operator, go for this method. In addition to gaining skills directly passed on from a divemaster, you have the opportunity to meet and share experiences with classmates. You may then meet someone in the class who can become your regular dive buddy. The biggest gain is you'll be officially rewarded for your accomplishment! Receiving a certification card and simply being acknowledged for your skills will undoubtedly increase your confidence as an independent diver.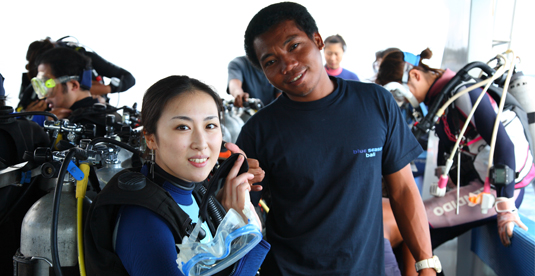 Best of all, scuba training agencies, such as Blue Season Bali, offer curriculums about every imaginable aspect of diving. This includes standardized advanced training, specialty courses, and continuing-education courses for while you are traveling on a dive vacation.
Whether you wish to increase your confidence, enhance your skills in certain areas, investigate new types of diving, practicing regular diving while completing formalized scuba educational courses is a smart combination.
How often do you dive? Does it make you a better diver each time? Tell us about your experiences!