Manta Rays are some of our favorite marine pelagic encounters here in Bali. You will learn to truly appreciate their sublime beauty once you've encountered them in person on your dive. Just like any other marine life, Manta Rays come in different shapes and sizes. Some have massive wingspans that will dwarf smaller fishes, while others are no bigger than your body.
In general, Manta Rays are categorized into two different types depending on where they live. We'll highlight the different type of Manta Rays you can encounter in Bali, in this article!
Reef Manta Rays
Just as the name suggests, the Reef Manta are the species that like to stick around coastal locations. They claim the reefs as their home and can generally be found not too far from coral formations. Reef Mantas are generally the smaller species and can be distinguished by the white color around their mouth opening. They are known to dive to depths of over 400 meters deep but prefer to hover around coastal areas.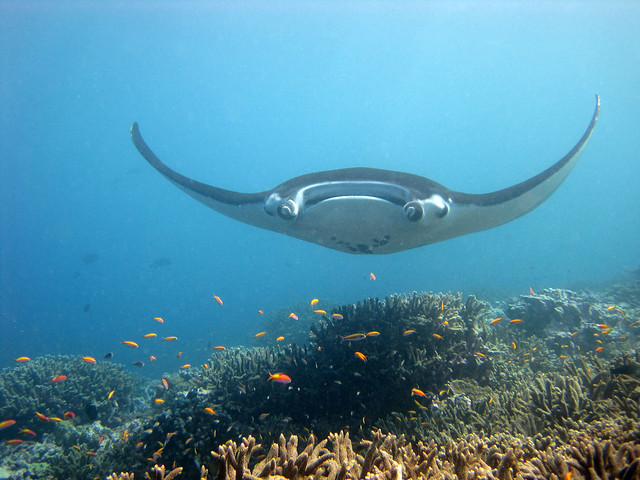 Giant Manta Rays
The Giant Manta Rays are the larger species of Manta Rays – and for a good reason. Giant Manta Rays are generally found way offshore coming from the deep ocean. Their wingspan can reach as wide as 9 meters! Imagine seeing one of these majestic creatures swimming past you, they are amazing. Their massive size allows them to glide in the open ocean gracefully. You can distinguish Giant Manta Rays by their darker coloration around the mouth opening, and also of course by their massive size!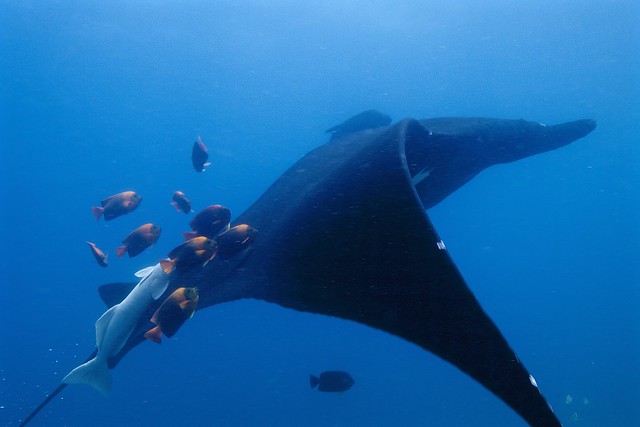 Are you excited to see the Manta Rays in Bali? 
Call us at Blue Season Bali, and our PADI Divers will show you how and where to sight the majestic Manta Rays on your diving trip in Nusa Penida, Manta Point and all-around Bali!