Deciding to learn to dive, or to continue your diver training is an exciting adventure!! There is so much to explore underwater and so much fun to be had. But how do you make sure that you get the best possible training and experience? Here is a simple list of questions to ask and research to do before choosing a scuba diving company for training.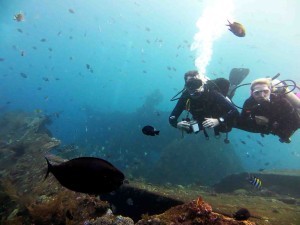 Research
Check their ranking within the Scuba Diving Organisation they belong – if they are with PADI for example, they should be a PADI 5* Centre. This means that they have met PADI's strict standards and certify a good number of students every year.
Have they received any quality awards?
TripAdvisor is a great way to see what guests actually think of their courses/dive trips.
Social Media Sites will give you a better understanding of their tone, are they serious, fun, safe?
 Questions to ask: 
How many participants do you allow in a class? Big groups can lead to little personal attention and will limit how much you can learn. We suggest 4 divers to one Instructor is a good maximum ratio to have.
Where do you dive/what is there to see there? A nice shallow reef is ideal for Open Water Courses, Advanced Open Courses and higher can be conducted at deeper depths.
Do you conduct Instructor training at your Dive Centre? Usually, Dive Centres who conduct high level training (such as Instructor courses) offer a higher quality of training.
Are there any additional costs I should be aware of (eg: Transfers, Lunch, Certification fee, Reef tax etc)
Can I start studying before my course starts/is there an additional fee for this? Many dive organisations now offer digital manuals, meaning that you can get started with the theory section from home.
Is insurance included – some medical aid packages do not cover scuba diving accidents. In the very unlikely event that something where to happen, it's good to know you will be covered.
Are your Instructors first aid certified?
What is your safety record like? Scuba diving accidents are very uncommon. It's important to make sure that you choose a Dive Centre who have excellent safety records.
How many Instructors do you have, where are they from and what languages do they speak? This will give you a better understanding of the size of the Dive Centre and will also help you to evaluate whether they have an instructor who can teach you in your first language.
We hope this helps you in selecting the best possible Dive Centre for your scuba diving courses.
Happy diving!