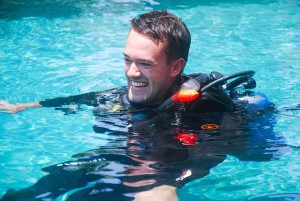 …also known as the Navi guy, or the Trainers Guy or even the Phone Guy…
"It is super hot and the internet is crap, but everyone has to learn from life!  – Just a joke on the side," is what Blue Season Bali's Divemaster Intern Nick starts our conversation with.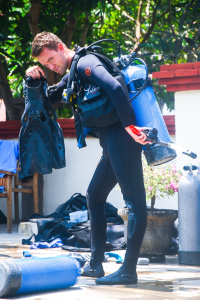 With his 21 years, Nick plans to join the navy in the UK quite soon and therefore he wants to improve his selfconfidence with water and being in the water. It is not an official requirement for joining the team, but Nicks wants to have the fun of the Bali-lifestyle on top of it.
Even though he loves to dress up as Twity Bird or an giant elb at home, to join into the Dive Master Program of Blue Season Bali is very important to Nick and he takes it with a good attitude and seriousness. Nick is probably one of our super students in theory. Definetely a strengh of his personality.
We hope you are going to have a lifechanging experience here in Bali and that you can explore even more of the fun and beautiful diving sites all around the planet.
See you around, Nick, and congratulations to leaving impressive immitations of Scottish, German and French people in the heads of the team of Blue Season Bali.