"Hey have you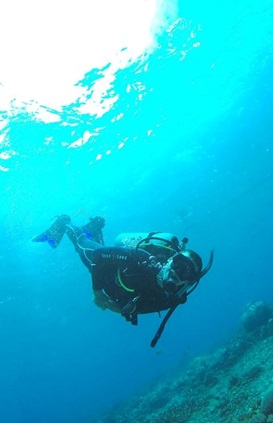 seen this Western guy? He is a giant, isn´t he?" These are words Blue Season Bali's Divemaster Intern Wally had to get used to in the Paradise of Bali, one of the Islands of Indonesia. He beats the 6ft height easily and the wing-span of his arms allow him to hug the whole Blue Sseason Bali team all at once. (What he actually tried when he had to leave.)
He is a great diver, but he drowned into the whole world of scuba diving and the underwater environment four years ago – back at home. Home for Wally is the USA, although he has Polish roots. This gives him the skill to eat as much as he can: it is actually pretty impressive to watch him gorge five different dishes.
In Amerika he dove locally; some caverns and the Carribean. Wally had the possiblity to do the Divemaster course at home, but he asked himself: "Why not go on an underwater adventure? Why not go somewhere I have never been and I have no clue of how it could be?"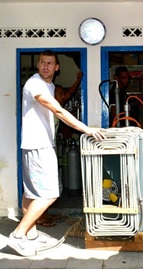 In the end Bali and Blue Season Bali turned into something he wouldn't have guessed could be so great. Having to deal with a new country, with a new culture and a language you don't speak, can take you in a situation without anything to hold on and can make you loose your orientation, but the team of Blue Season Bali is the family you need to settle and to enjoy all the things you have never seen before.
Wally desires to be a part of the diving community, because he appreciates the lifestyle they live: always ready to go to the next awesome dive site. In the future he wants to go into tech diving and scientific diving. But no matter what, it has to be professional diving. It leaves no doubt. So see you later Wally, congratulations and maybe it will be an HELLO again here at Blue Season.