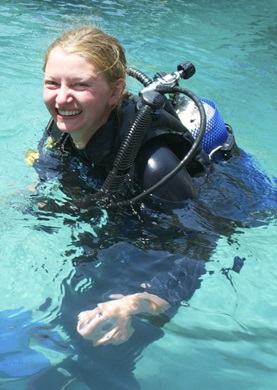 "I am on my mission to face a Mola Mola and find my personal giant Manta." These are the words of Blue Season Bali's Divemaster intern Sarah Collins. She is a 23 year old Biology and Chemistry student, who spent the most of her life in the UK, but she also lived in Switzerland.
Influenced by the decision she made to become a scientist, it is more than handy to be able to guide people, not just in the flora and fauna environment on earth, also in the water.
For Sarah it did not really matter where she set her first step on the Divemaster path. With her mother she dove all around the world and she has become more and more a part of the water.
Sarah literally typed in Google: INSTRUCTOR DEVELOPMENT COURSE (IDC) and ended up coming to Blue
"Walking on two feet, I managed to get bruises, rashes and scars all over my body – in the water I am just in my element and additionally I cannot hurt myself". Being quiet clumsy, water is just perfect to be herself and Blue Season Bali and the whole team made her feel comfortable on the surface as well as beneath it.
"Bali and its beautiful array of dive sites were a fantastic start and you may see me as a scuba diving instructor again." Congratulations, Divemaster Sarah, go and explore the world; especially the underwater world.
Written by Diana Schlegel