Worth More Alive than Dead
Scientific Article by Niels Rijneveld,  Marine Biologist & Eco-Internship Manager at Blue Season Bali
Since February 2014, Indonesia is the world's largest manta ray sanctuary! This is a great victory for manta, for Indonesia and for manta ray tourism. The sanctuary will protect all mantas in the enormous 5.8 million km2 seas from fishing and export.
Leading to this surprising event was a study by Mary P. O'Mally last year (titled "The Global Economic Impact of Manta Ray Watching Tourism). This study confirmed what many, apparently except for government officials, already knew: mantas are worth more alive than dead.
The worth of Manta Rays
Based on an average 10-year lifespan

Dead
Alive
Fisheries
Dive Expenditure
Direct Economic Impact
Annual Income
US$ 42,000
US$ 10,700,000
US$ 15,000,000
Indonesia has known to be the world's largest shark catching nation and one of the world's largest manta fishing nation. Fishery surveys conducted in Indonesia over the past ten years provide evidence of unsustainable mobulid fisheries and associated population declines, which may threaten these valuable manta ray watching tourism businesses.
On the contrary, Indonesia ranked as one of the top 3 destinations in the world for manta ray watching, with estimates of manta dive expenditures close to US$ 10.7 million and direct economic impact over US$ 15 million per year.
Yet based on analysis of landings data collected through surveys of ports in Lombok, Pelabuhan Ratu, Cilacap, Kedonganan, Lombok and Lamakera, the total annual income from manta ray fisheries in Indonesia is estimated at approximately USD 42,000 (estimated 94% from gill plates for export; 6% from other products sold locally), less than 3% of the annual expenditures on manta ray watching tourism.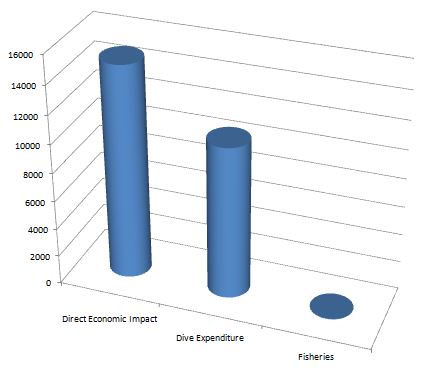 Additionally the tourism revenue figures estimated in this study only account for existing manta ray watching operations. There are certainly more dive sites to explore where manta rays will visit, offering potential for development of these activities in other parts of the country.
(Source: O'Malley MP, Lee-Brooks K, Medd HB (2013) The Global Economic Impact of Manta Ray Watching Tourism. PLoS ONE 8(5): e65051)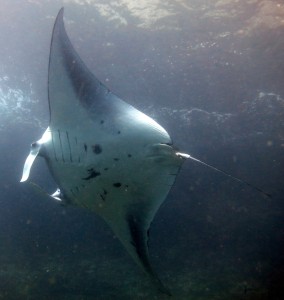 Did you know that Blue Season Bali also have a AWARE shark conservation Specialty courses here in Bali ? Also not too long ago we have a very rare tresher shark sightings in Bali. Read them here.