Bali offers so many different dive sites and each dive site is unique. From the smallest creatures at macro-lovers paradise Menjangan, to the waters around Nusa Penida where you can find bigger creatures such as the Mola Mola and the Manta Ray. Although every kind of dive has its own charm, there is something about having fish swim beside you that are twice your size.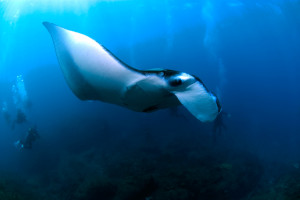 One of my favourite things to spot when I'm going to Nusa Penida is the Manta Ray. There is so little known about the enormous creature and yet you will see them quite often. You can come pretty close to them as well! Manta Rays are harmless creatures, which allows you to swim very close to them. Some mantas have a wing span of more than 3 meters! Their gentle and slow movements makes them look like they are flying in the ocean, something truly amazing to see.
There is an extremely high chance you will see them around the islands of Nusa Penida and Nusa Lembongan. There is even a dive site South-West of Nusa Penida that is called Manta Point! This is where you have the highest chance of seeing a Manta Ray, and quite often you will see Blue Spotted Stingrays on the sandy bottom as well.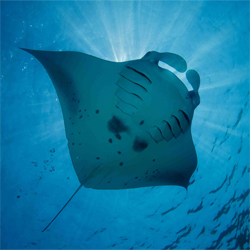 Luckily for us, there isn't really a season for the Manta Rays – you can see them all-year-round. Big chances that next time you're leaving to Nusa Penida, you will spot a Manta Ray. Our dive instructors will do their best to find them for you, although sometimes you may have bad luck and won't spot them. We're still mastering the Manta Ray language but haven't had much success with it yet, so until that time we just have to hope to spot one on your trip! Feel free to ask your instructor or dive master about some cool slang words in Manta-language 🙂
Experience Bali's underwater world with Blue Season Bali, for top quality scuba diving in Bali, PADI dive courses, snorkelling trips and even professional diving internships all around Bali.
Related Blogs: